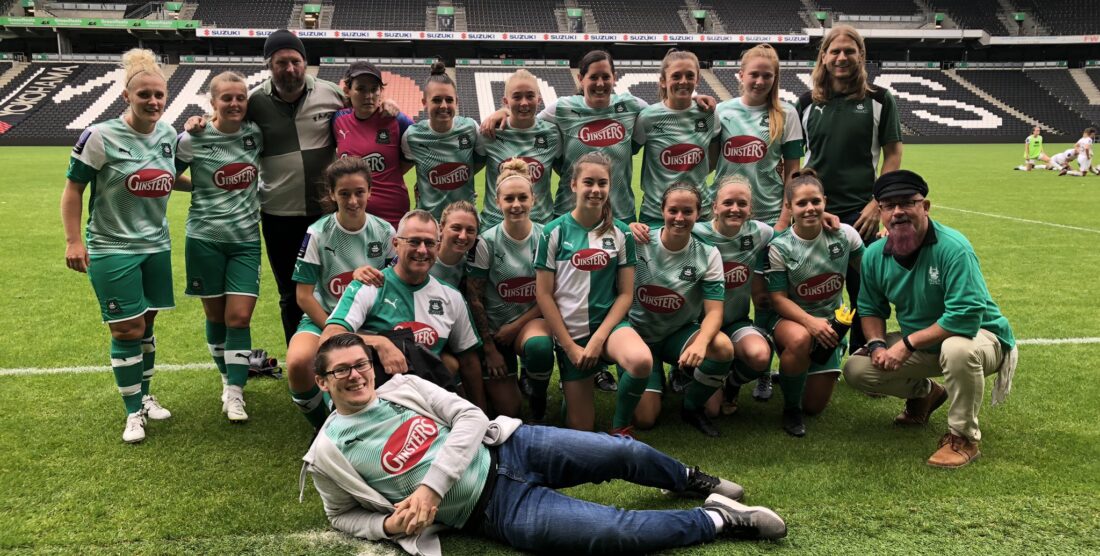 PASALB support Argyle Women's Team
Now the 20/21 season has officially started, I'm sure you all are missing the away day trips to watch Argyle in action. Watching Argyle play in empty stadiums, on a small screen using the EFL's ifollow streaming service, just isn't the same as watching live football outdoors, with friends. But you CAN join friends and watch Argyle play live football outdoors, by switching to supporting…Argyle Womens Team!
Supporting Argyle Women FC when they play in South East
At present, The FA Womens National League allows spectators to attend matches. This means there is an opportunity to actually go to a game and watch Argyle in person!! 
Last season, a few members of PASALB started regularly attending Argyle Women away games, it turned out to be a great social meet up on match days throughout the season. Some of PASALB even managed to get a photo with the team on the pitch at MK Dons stadium, not quite hallowed turf but certainly not something you get to do often!
Argyle Women FC currently play in the 3rd tier of the women's pyramid – The FA Womens National League South.
Previously known as Argyle Ladies (until the change to Argyle Women this season) the team were run and (partly) funded by Argyle Community Trust – the official charity of Plymouth Argyle FC. The players are effectively volunteers, giving their time for free to play for the club and they really do appreciate that fans turn up to watch them play. Now this season along with a change of name, the Women's Team are coming under the official Argyle umbrella.
Argyle Women FC kicked off their season on Sunday 20th September and the full fixture list can be found here: www.palfc.co.uk/teams/First-Team/Fixtures_Results
There is a "PASALB Argyle Women FC Supporters" WhatsApp group, where members can post details of forthcoming Argyle Women games in the South East, with suggestions for travel and a pub to meet. To join this group, please contact Chris Spice on 07980958016.    Alternatively, just turn up at the games you fancy, and find us there!
We aim to comply with regulations and when large numbers attend we will divide into Groups of six. We are compliant with social distancing measures.
Player Sponsorship
A question was raised in the PASALB AGM about potentially sponsoring an Argyle Women team player for the 20/21 season. It was agreed by the committee if additional funding can be met by members, the PASALB fund will meet the difference and sponsor a player. 
The cost of sponsorship is £350 per player. It is a massive help for the club, and means a lot to the individual players to be sponsored.
The women's team and manager will be happy to speak to PASALB members later this season as an event, in person if allowed or via a ZOOM Q and A.
If you contribute and then find yourself in Plymouth one weekend then as a player-sponsor we can get you free entry to one of the home fixtures. We will also receive the sponsored players shirt at the end of the season.
Your help is needed in order to sponsor a player from Argyle Womens Team!
Any donations, large or small, would be appreciated in order to meet the sponsorship target. Your donation would really make a difference to the players, and the club.
Please transfer your contribution to PASALB via paypal or BACS transfer and make sure you put ARGYLE WOMEN FC as the reference.
The bank account details are:-
77-91-43 80963460
Please email the below contacts when you have made payment, so we can confirm receipt and acknowledge payment, we will also add to the names of contributors (but not the amounts) to the website unless you ask us not to.

If any member would like further information or has any questions, or is emailing to confirm contribution, please contact either:
Greg Foxsmith 07980 846330 gregfoxsmith@icloud.com
or Chris Spice 07980958016. cspice01@gmail.com