Chairman's report 2020
SUMMARY OF CHAIRS REPORT, AGM, sept 2020
(Greg Foxsmith, having been re-elected)
Thank you for re-electing me as chair, and my grateful thanks to a fantastic committee for their hard work over the last 15 months and moving forward.
This has been a most unusual year for PASALB!
As Argyle fans living in the South East, we are always in "a Tale of Two Cities- Plymouth and London"
But as Dickens put it in that book, this really has been the best of times and the worst of times.
The best of times with Argyle's promotion- and a fantastic achievement by Ryan Lowe and the team (with a special mention to the PASALB footballer of the year, Antoni Sarcevic)
But also the worst of times, in that we were not there to celebrate the promotion. And Sarce has bolted to Bolton.
The best of times in that the club is well-run, financially stable, and we have a great chairman in Simon Hallett.
The worst of times, because the ongoing financial implications for Argyle and all EFL teams during this pandemic are very worrying.
In the grand scheme of things, where Coranavirus has caused deaths and serious illness and trashed the economy, to focus on football seems indulgent. But we are an association of football fans, so there is no point ignoring the consequences – for us London fans, there is little or no prospect of watching Argyle live this season.
Well we will of course strive to make the best of it. We may be reduced to watching Argyle on a lap-top on i-follow, but we can at least use PASALB as a way of meeting other fans to watch those games together, in whatever format the ever-changing regulations allow (from Monday, groups of six)
Let us know if you would like to join a PASALB WhatsApp group to swap ideas of venues, and plan meeting other Argyle fans in suitable local venues in appropriate and socially distanced groups. And of course we will expect everyone to pay their £10 fee, so as not to deprive the club of the income from the live stream.
For those addicted to live football, consider watching some of the London non-league sides -currently permissible, and if you want to watch games with other Argyle fans, contact the chair to get added to our "groundhopper" WhatsApp group.
Better still, watch the Argyle Ladies team when they are in action in the SouthEast. We are building a relationship with the team, and are looking to sponsor a player. Chris Spice, joining our committee tonight, will be leading on this -so watch this space for details of matches to attend. The fixture list is here https://www.pafc.co.uk/matches/fixtures/, and pencil in Portsmouth away for a start! Once again, there is a WhatsApp group for those interested- please do contact me or Chris if you wish to join.
Returning to a gloomy note for a moment more, we sadly lost one of our stalwart members and former chair Bob Berriman. Thanks to Lee for providing a tribute to "Chairman Bob" earlier.
The PASALB fantasy league trophy has passed from Simon Walker, to this year's the winner- Tom Harris!
Please check the website for details of how to join this year: https://www.pasalb.london/pasalb-fantasy-league-2020/
PASALB sponsored a match-ball this season, and we significantly backed the Jack Leslie Campaign.
Thanks to Ryan Lowe for attending a brilliant "Meet the Manager" event here in the Hoop, and we will have a follow-up this season- in person if regs permit, if not via Zoom.
Thanks to all who have attended APFSCIL meetings, and those who run or participate in our sports teams- Darts, Pool and of course our 5-a side team.
We had a great Christmas social, and hopefully if lockdown eased can assemble here in December for a Christmas drink- and a "farewell to Landlord Mike", whose tenure at the pub ends at the end of this year.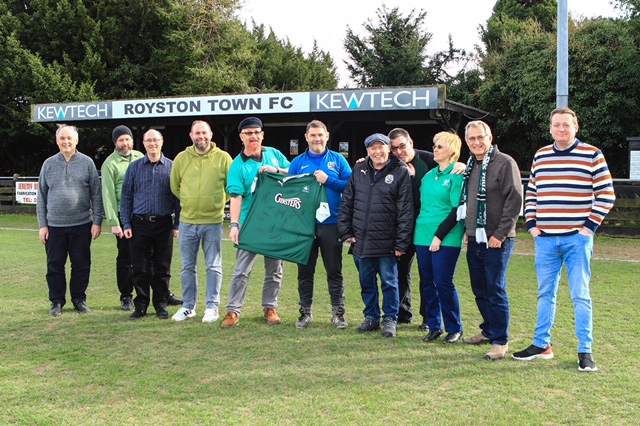 Another successful event was our PASALB trip to Royston, managed by Argyle legend Steve Castle.
We sponsored one of their games, and will look to do so again this season.
Steve has been a guest at PASALB events on two occasions, and Royston should have been promoted this season!
Two AGMs ago we had as a guest the second most popular London based Argyle supporting musician-comedian, PASALB member Matt Tiller. This year he has updated us on the Jack Leslie Campaign, but we paid him not to sing.
Last year's AGM had special guest Simon Hallett. He was generous with his time and his money.
He had just interviewed managers. He recruited Ryan Lowe- inspired choice!
He is a great chairman and a friend to this association and other fan groups. I'm delighted he is now able to join us via Zoom (welcome Simon)
Conclusion
This year we will not be producing a travel guide for obvious reasons. Instead, we will produce a PASALB souvenir booklet incorporating your favourite memories and anecdotes from following Argyle away. We will message you about that soon, but start thinking now!
We will do our best to put on social events as possible in the current situation.
We still remain proudly committed to supporting Plymouth Argyle Football Club. In recent years and this we have sponsored players, the manager, a match-ball at Home Park, and the Jack Leslie statue campaign -where PASALB will feature on the plinth as a "key supporter".
To continue doing this, we need your support-starting of course with renewing your subscriptions. I am delighted to confirm that once again we are freezing our subscription at £10 pa.
Thank you all for renewing (and if you have not, please do so now) , and for being part of the PASALB family- keeping London Green!
Greg Foxsmith, PASALB Chair
Gregfoxsmith@msn.com 07980846330
10 September 2020