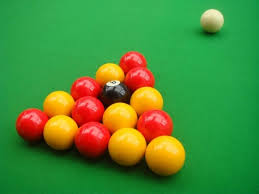 PASALB Pool Team
At the time of writing, the pool league in which the PASALB team (combined with Barrow) competes has been suspended due to Coronavirus. We take this opportunity to update members, and as always invite PASALB members to join us when the season re-starts. We are a friendly team in a friendly league, and the only requirement is to know one end of a pool cue from another (although an enjoyment of ale is also a recognised attribute).
In the true spirit of APFSCIL, who run the league that pits London based fans of different football teams against each other, London based fans of Argyle (that's us -PASALB!) and of Barrow AFC (the National Supporters Club) have combined to make up a joint Pool Team. The union was formed in 2012, and continues to work well. New recruits are of course always welcome, whatever their standard, and members are also welcome to come along and watch a match, have a beer and a chat with like-minded fans.
Home matches are played at the friendly Southwark Brewing Company, at 46 Druid Street, London SE1 2EZ.
We compete in the APFSCIL Pool League and Cup; fixtures, results and the league table can be found here.
It may appear that we are bottom of the league, but that may be the league is upside down, alternatively we hope that the season is scratched, and we can restart anew with a clean slate- things can only get better!
PASALB Pool-team captain Phil Burnham-Richards can be contacted by email philbr68@gmail.com or by text to his mobile 07941 948506.
So although there are currently no matches, do take this time to get in touch if you would like to join in when normality resumes. Keep well!