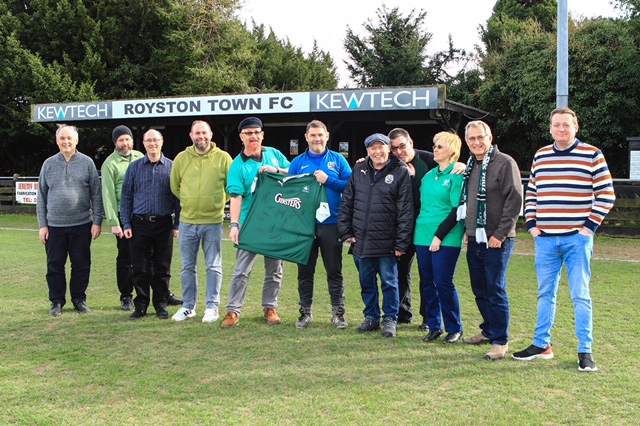 PASALB go to Royston
On 22 February, 9 PASALB members chipped in and headed up to Royston FC to be match sponsor for their match against Hednesford. Why did we do that? Simply because Royston's manager is Steve Castle who, as well as being an Argyle legend and great bloke, has been a good friend to PASALB, coming along twice to meet us at social evenings.
Not surprisingly it was a very enjoyable day out. After meeting up on the train and having a couple of pre match pints in Royston, we headed up to the ground early where we had our photograph taken on the pitch with Steve. We were very well looked after and our support was much appreciated. Royston are on good form and looking good for promotion if the season is ever finalised. Unfortunately, the game was no great shakes mainly because of a very strong wind and an away side playing for a point. With five minutes left, it looked destined for a nil-nil draw with very few chances and we were seriously unsure what to do about the Man of the Match award as no-one had really stood out. Then with 5 minutes to go, the Royston goalie made a great save to put him in pole position for the award. Luckily for us the decision was made even easier as shortly afterwards Royston scored the winner directly from a free kick on the edge of the area. That solved our problem. We had our Man of the Match!
After the game we met Royston fans, players and manager in the clubhouse and rounded off the day with our presentation of the man of the match award and a gift of an Argyle shirt to the club. We wished them the best of luck in their FA Trophy quarter final the following week (in the end lost 2-1 to Concord Rangers) and headed off to round off the day with (no surprise) a few more beers.
Here are a few photos from the day…