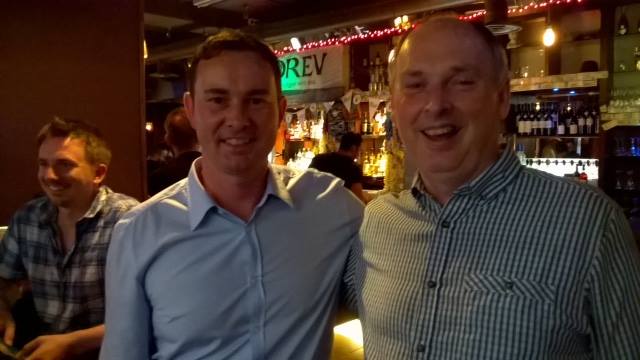 We met the manager
Derek Adams and Martyn Starnes found the time to meet PASALB members the night before Argyle's win at Wimbledon.
The night was a great success with Derek answering questions openly and with honesty. He made a positive impression and is clearly a thoughtful manager as well as a hard-working one. During his spell out of the game he has observed training regimes in several countries and brought back some ideas for Argyle that will help him get the team ready for understanding their roles. Organisation is a going to be a key element for Argyle as Derek introduces some changes from last season's style of play that will hopefully see us attacking with pace.
Martyn spoke after Derek and gave updates on what is happening within the club and the grandstand. As always, he spoke with candour in explaining what is happening.
We are grateful for the time Derek and Martyn gave up, particularly with it being the first competitive fixture for the new boss the next day. He mentioned during the evening that, although the pre-season friendlies had not a seen a 'glamour game', he was pleased with the level of competition in the matches played. He hoped that this would give Argyle an edge of readiness over Wimbledon. Saturday's result looks to have proved him right but, from a PASALB point of view, maybe it's worth noting that in recent years Meet The Manager events on Friday have been followed by a win…..
We look forward to meeting Derek and Martyn again soon!
Becoming a member of PASALB entitles you to free entry to all our socials. For details of how to join, click here.