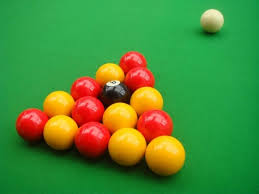 PASALB Pool Season Review
After an early exit from the Summer Pool Cup – an 8-1 defeat to Sheffield Wednesday – we had to wait until November for the first fixture in our third season as a joint team with Barrow.
The first match was a double-header against Exeter Exiles and Hearts, the latter ended in a nailbiting 5-4 defeat, but importantly we won against the Exiles 7-2. When we followed this with a 5-4 win against Hull City we were top for Christmas.
Sadly we weren't able to keep up the momentum and we are yet to taste victory in 2015 – despite holding commanding leads against Middlesbrough and West Brom, where in both cases we snatched defeat from the jaws of victory. This form continued with our most recent fixture last Tuesday 16th June against Sunderland where again we took a 2-0 lead only to proceed to lose the next 7 frames. One consolation from this fixture was that Sunderland clinched the title with 2 matches to spare. With the late start the league still continues, with the remaining fixtures to be completed by 4th July.
Off the tables we've had quite an eventful season.
Steve Cole, the APFSCIL Pool Secretary, was keen for someone to take over the running of the League as he was returning to his native North East; however, with no one willing to step in he's been running the league online this season.
Dave Leitch, whose call we answered to form our joint team, was taken ill during the season. I've stepped up to continue Dave's fine work as captain with the help of Simon Nichols from Barrow.  Dave has been along to recent matches as he continues to recover and he's stepped into play the odd frame or two.
Lastly, our home for the past few seasons, the White Lion in Central Street, suffered a fire last May, which caused chaos in the League as all bar two of the sides had the pub as their home venue. We found a pub with two pool tables, The Banker near Cannon Street, and used this as our temporary home. Thankfully the White Lion rose phoenix-like from the flames and we returned to our spiritual home in December.
Phil Burnam-Richards
PASALB Darts Secretary