PASALB Fantasy League -winner!
Once again last season there was a PASALB "mini-league" within the structure of the Premier League "fantasy football" league.
A closely fought campaign over the 2016/17 season drew to a conclusion with the honours going to James Chapman.
James lives in Plymouth, and is a season ticket holder, but is a friend and supporter of the Association due to meeting up with London-based friends at the many away matches he attends.
This year he also attended our anniversary event in Richmond.
Congratulations Jim!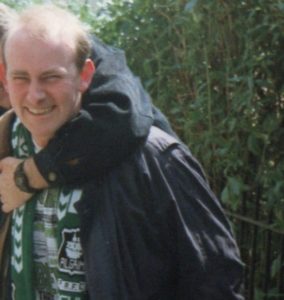 The coveted PASALB fantasy league trophy will be presented to Jim at an away game early in the season.
Our highest ranking committee member this year was our new chair Greg Foxsmith (3rd)
The final rankings are here: https://fantasy.premierleague.com/a/leagues/standings/113080/classic
A new competition will resume for the season ahead. – if you have not entered previously, please do feel free to join and pit your football management skills against fellow PASALB members and friends!
Entry this year will be free for members- so ensure you renew your membership promptly, and you will receive tha all-important entry-code to enter the tournament for your chance to win.