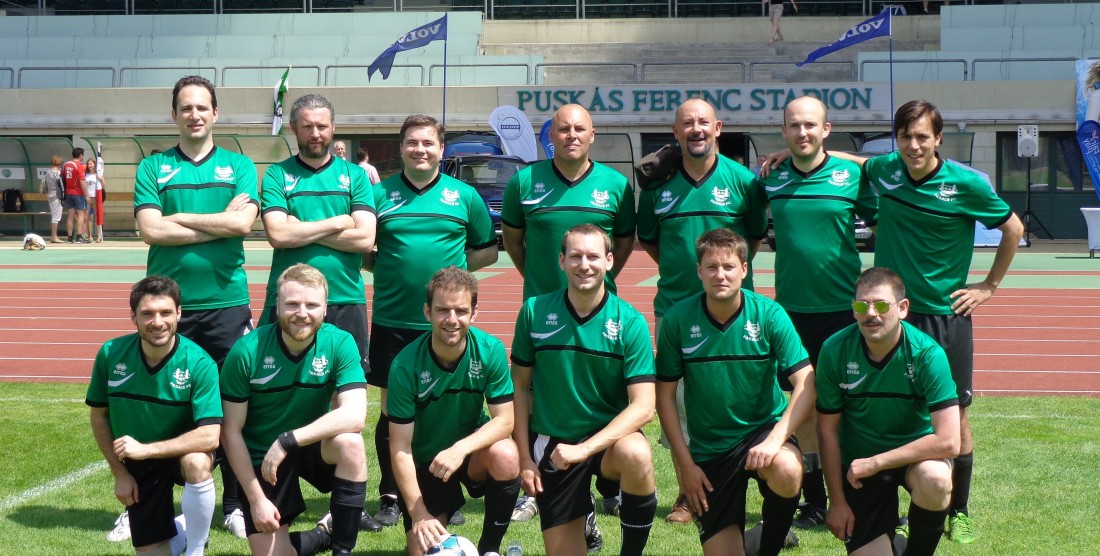 PASALB FC 2-1 Middlesbrough A
A last-minute winner from Tom Watkins against the only defence to deny him in the previous campaign ensured PASALB's Division 1 campaign got off to a winning start on a balmy late afternoon in Chiswick.  The three points against last season's runners-up Middlesbrough A will have sent tremors throughout the league. They were more than warranted, however, by a battling performance in which all participants surpassed themselves.
Kick off at the Riverside Lands was delayed by the referee's late arrival, prompting a bumper crowd of three to drift away in disgust. It was no surprise, then, that early probing was tentative, with players still feeling the effects of an extended warm-up. But the game sprang to life on about 15 minutes when Prout played in Dave Ranki, enjoying license to get forward from the unfamiliar left back position. 'Rankerto Carlos' found debutant Ben Chantrell, who sent a spinning half-volley so sumptuous you could give it a Michelin Star flying into the top corner.
Having wrested the initiative, PASALB aimed for the jugular. Blinded by the setting sun, Hildyard shoulder-ed narrowly over after flailing ambitiously in the direction of one of Dave Brown's long throws. Watkins sent a grass-cutter centimetres wide with his less celebrated left foot. Intelligent play from Watkins and Noble drew a number of fouls in dangerous positions from which we failed to profit.
It was disappointing then, when Boro equalised as a result of a terrible refereeing decision. After a throw-in was half cleared, the ball came back in the box to the left winger, who was clearly offside and not by a narrow margin. Unbelievably the ref waved him on – Langworth made a fine safe, tipping onto the bar from point blank range, but their centre forward was first on hand for the tap-in.
The injustice was slightly redressed moments later when a righteous challenge from Darren Kidd was delivered squarely to the head of a Middlesbrough striker as he ran through on goal. No foul given, half-time 1-1.
The second half saw PASALB continue to menace from set-pieces. Brown narrowly failed to connect with a corner at the far post. A looping header from Watkins would probably have found the top corner if the goal wasn't situated in a trench roughly a metre or so below the level of the rest of the pitch.
Though Middlesbrough had the better of possession, their best chances came on the break. Langworth made a flying save to tip a long range effort over the bar, and then he and Kidd combined to make about four consecutive blocks inside the six-yard box from another counter attack. Braveheart hurled himself in front of a cross that came screaming across the face of goal with a number of Boro players waiting to apply the finish.
With less than a minute remaining, the Boro captain cried out what proved to be an incredibly prophetic exhortation to his teammates: 'Come on lads, we're not drawing with these jokers.'
Moments later, after PASALB had won a couple of 50-50 challenges in midfield, the ball worked its way out to Willacy on the left. The keeper failed to deal with his inviting cross and strike duo Disco and Watkins were onto the loose ball like a grizzled old bloodhound and his hungry young pup. Disco nudged it to Watkins who rammed home into the empty net. Cue wild celebrations with Watkins's shirt becoming estranged from its wearer in the maelstrom. There was barely time for Boro to drive the ball downfield from kick off, before the final whistle confirmed the three points.
A superb result against opponents we've never previously beaten and who are perennial contenders in both the League and Cup.
Team: Langworth, Braveheart, Ranki, Kidd, Brown, Hildyard, Willacy, Prout, Chantrell (Disco), Watkins, Noble (Richards)
Goals: Chantrell, Watkins